Global energy and commodity price-reporting agency Argus will host the Argus Biomass Nordics and Baltics 2018conference in Copenhagen, Denmark, on 29-31 October.
Drawing on the success of the flagship London Biomass conference, the inaugural event focused on the Nordic and Baltic regions, and will bring together wood chip and wood pellet specialists from Denmark, Estonia, Finland, Germany, Latvia, Lithuania, Netherlands, Norway, Sweden and the UK.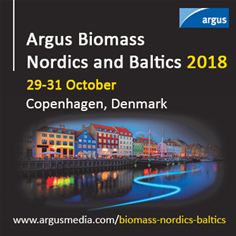 Argus Biomass Nordics and Baltics 2018, Copenhagen, Denmark
"The outlook for biomass consumption and production is strong in the Nordic and Baltic areas, with the geographical proximity of the Baltic producer region to the mainly consumer area of the Nordics supporting international trade growth," said Laura Tovey-Fall, Editor of Argus Biomass Markets. "In the Nordic region, at least a further 600MW of wood chip demand capacity is scheduled to become operational by the end of next year, with further projects planned for the coming years."
Agenda highlights will include a spotlight on raw feedstock availability, featuring a workshop led by Didzis Palejis, President of European biomass association Bioenergy Europe, and a panel debate on supply and demand led by representatives of CM Biomass Partners, Hofor, SBE Latvia, Stockholm Exergi and Orsted. As well as providing attendees with insight into tackling supply shortages, the sessions will analyse current biomass volumes in the Nordics, the use of waste wood as a biomass source, and discuss relationship-building to secure long-term contracts.
Those already confirmed to attend include the Swedish Pellet Association, Baltpool, Bruning-Euromulch, Danske Maskinstationer and Entreprenorer, DLG, Doydans, DSHwood, Elkman, Enviva Management, European Energy Exchange, European Pellet Council, Falkenbergs Returflis, Hededanmark, Horizon Pulp and Paper, Inpasa OU, Litbioma, Niels Winther, Nobio, Peltrade, Private Forest Centre, Rindi Pellets, SBE Latvia, Simatek, Stockholm Exergi, TSE, Tyloskog, UAB Vilniaus Kogeneracine Jegaine, Vapo OY Pellets and Wood Pellet Services.
Argus Biomass Nordics and Baltics 2018 will take place on 29-31 October at the Radisson Blu Scandinavia Hotel in Copenhagen, Denmark.
Further information, including a full speaker line-up and conference agenda, is available at www.argusmedia.com/biomass-nordics-baltics
For enquires, contact Teri Arri at teri.arri@argusmedia.com
—end—
About Argus
Argus is an independent media organisation with almost 900 staff. It is headquartered in London and has 21 offices in the world's principal commodity trading and production centres. Argus produces price assessments and analysis of international energy and other commodity markets, and offers bespoke consulting services and industry-leading conferences.
Companies in 140 countries around the world use Argus data to index physical trade and as benchmarks in financial derivative markets as well as for analysis and planning purposes.
Argus was founded in 1970 and is a privately held UK-registered company. It is owned by employee shareholders and global growth equity firm General Atlantic.
ARGUS, the ARGUS logo, ARGUS MEDIA, ARGUS DIRECT, ARGUS OPEN MARKETS, AOM, FMB, DEWITT, JIM JORDAN & ASSOCIATES, JJ&A, FUNDALYTICS, METAL-PAGES, METALPRICES.COM, Argus publication titles and Argus index names are trademarks of Argus Media Limited.